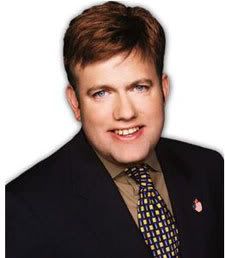 EDITORS' PREAMBLE: Boyish and all-American-looking GOP language whore Frank Luntz has perverted further (a feat in itself!) the sordid and utterly immoral "art" of political p.r. The raves he receives by fellow establishment whores like Time Magazine are eloquent commentary on how "American civilization" operates in corporate terms. On his own website, he touts his horn thusly:
"Frank Luntz is one of the most honored communication professionals in America today. "Time Magazine" named him one of "50 of America's most promising leaders aged 40 and under" and he is the "hottest pollster" in America according to the "Boston Globe." Frank was named one of the four "Top Research Minds" by Business Week and was the winner of the coveted Washington Post "Crystal Ball" award for being the most accurate pundit in 1992. Public Television's Bill Moyers had this to say about Frank: "He's a magician with a gift for the politics of words and what words best connect with the hearts and minds of the public." Said comedian Al Franken: " Asking Frank Luntz if he understands public opinion is like asking Julia Childs if she knows how to make a soufflé."
By The Rockridge Institute
The radical Right's messaging and framing infrastructure doesn't seem so fearsome if you know how to spot its weaknesses.
The radical Right is acutely aware of cases where the general public has progressive values and would ordinarily reject their agenda. The Right's approach to such cases is deception, often through the use of Orwellian language — language that means the opposite of what it says.
For example, the term compassionate conservatism is used because leaders on the Right have traditionally been considered mean and lacking in empathy toward people who are needy, poor or oppressed. The term compassionate suggests that conservatives do care about such people, although their policies go in exactly the opposite direction. And indeed, certain conservative theorists are open as to what compassion is to mean, namely that removing "interference," especially by the government, allows disciplined people who are seeking their self-interest to become prosperous.
This use of language is no accident.
Frank Luntz and his associates are well paid to devise such language. What does Luntz advise?
When talking to women, use words women like, such as love, from the heart, and for the children – no matter what is being said.
When talking about our environment, use the words healthy, clean, and safe – even if you're advocating policies that increase pollution.
In a recent version of their regularly updated language manual, there is a chapter titled "The Environment: A Cleaner, Safer, Healthier America". In it, Luntz acknowledges that the scientific evidence does not support the conservative position on global warming. What does he suggest?
"The scientific debate is closing [against us] but not yet closed. There is still a window of opportunity to challenge the science."
And Luntz is listened to.
This strategy has been adopted in how the Right talks about the "Clear Skies Act," which increases pollution and mercury contamination, and the "Healthy Forests Act," which permits clear cutting and the destruction of forests.
This is part of a major strategy. The radical Right knows that it does not have a majority that accepts its worldview. If most Americans really believed what the radical Right does, no resort to such distortions would be necessary.
This is crucial for progressives to understand, because Orwellian language reveals weakness.
Progressives commonly wring their hands in despair when conservatives use Orwellian language. They shouldn't. The use of Orwellian language signals to us where conservatives are weak. Forget that their deceptiveness is immoral. The point is that they are weak and are revealing their weakness. If they had public support, they could freely call their initiative the Dirty Skies Act.
Progressives can use the Right's Orwellian weaknesses to our advantage. We can focus the public's attention on it by highlighting the discrepancies between what the radical Right says and what it does. Do not hesitate to rename their Orwellian legislation. For example:
• Do not call it the "Clear Skies initiative." Call it the "Dirty Skies initiative."
• Do not call it "Healthy Forests." Call it "No Tree Left Behind."
• Do not call it "Compassionate Conservatism." Call it "Callous Conservatism".
The Rockridge Institute is a fraternal site dedicated to progressive politics.