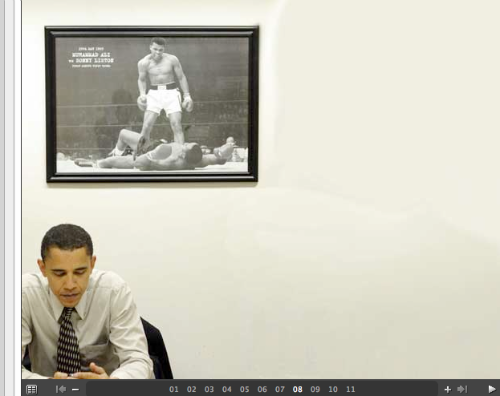 If he's taking progressives for granted, he's taking Black people even more for granted…
OBAMA, The Latest Great Liberal Hope, the man who set the nation afire with the promise of "change" (conveniently left undefined), the candidate who would like to sell us the "healing notion" that there's no longer any left-right divide…seems to be unravelling already…a victim of his own nature and intrinsic limitations. As Cyrano warned from the beginning, [see links to existing articles below] Obama is not a man of authentic progressive principles or agenda, in fact he's not even that smart (judging from the way he's busily flushing his momentum down the toilet by caving in to the spin doctors' shopworn formulas); he's just a professional American politician, a Clinton clone, with all the tics and vices of such despicable breed, among which opportunism, careerism, and cowardice define conduct at all times. So now, except for the incurable Obamaniacs out there, or the perennial pseudo realist crowd who reflexively fall for the lesser evil bogeyman every four years, the legions are in confusion and disenchantment is growing. As it should. And whether Obama wins or loses in November, the lessons from this exercise in mass delusion will have to be sorted out for years if not decades.
But what we need to remember is that, long before Clinton and his crowd cynically perfected the "GOP-lite" formula of naked triangulated betrayal, the vaunted Third Way to win elections, the Democratic party, as one of the two wings of the single Corporate Party that truly rules America, was in deep programmatic trouble. For the greed and callousness of this country's plutocracy have become so imperious that the old leftovers from the table of the rich with which old pols pacified the masses are no longer available, and the Democrats are now forced to scavenge harder to erect the old compromises. Don't expect the media gurus to tell you this, but for at least a generation now the Democratic Party has lived as a bloodsucker, feeding off of popular disgust with the overreaching greed and wanton criminality of the Republicans, who, as time goes by, show ever more clearly what the American bourgeoisie is all about. And that's a poor excuse for a party. 
In this installment of The Greanville Journal we bring to the attention of our audience two articles which are symptomatic of the mounting disarray in the Obama/Democratic Establishment camp. Both are voices of what we might call "leftoid liberalism", whose main figures, despite their criticisms, pretty much continue to see the world from the comfortable, celebrity-studded inner folds of the System and its many power rings, especially the media. As such we are more in agreement with their diagnosis of the trouble than with their overall purpose, to elect Barack Obama, a politician we cannot trust. [Lesser evilists, spare your ammo.] In the case of Arianna's piece, we have also included some of her comment thread, to shed more light on the malaise afflicting the Obama faithful.  —Patrice Greanville. 
______________________________________________________________________________________
Memo to Obama: Moving to the Middle is for Losers
Posted June 30, 2008 | 03:14 PM (EST)
LAST FRIDAY AFTERNOON, the guests taking part in Sunday's roundtable discussion on This Week had a pre-show call with George Stephanopoulos. One of the topics he raised was Obama's perceived move to the center, and what it means. Thus began my weekend obsession. If you were within shouting distance of me, odds are we talked about it. I talked about it over lunch with HuffPost's DC team, over dinner with friends, with the doorman at the hotel, and the driver on the way to the airport.
As part of this process, I looked at the Obama campaign not through the prism of my own progressive views and beliefs but through the prism of a cold-eyed campaign strategist who has no principles except winning. From that point of view, and taking nothing else into consideration, I can unequivocally say: the Obama campaign is making a very serious mistake. Tacking to the center is a losing strategy. And don't let the latest head-to-head poll numbers lull you the way they lulled Hillary Clinton in December.
Running to the middle in an attempt to attract undecided swing voters didn't work for Al Gore in 2000. It didn't work for John Kerry in 2004. And it didn't work when Mark Penn (obsessed with his "microtrends" and missing the megatrend) convinced Hillary Clinton to do it in 2008.
Fixating on — and pandering to — this fickle crowd is all about messaging tailored to avoid offending rather than to inspire and galvanize. And isn't galvanizing the electorate to demand fundamental change the raison d'etre of the Obama campaign in the first place? This is how David Axelrod put it at the end of February, contrasting the tired Washington model of "I'll do these things for you" with Obama's "Let's do these things together":
"This has been the premise of Barack's politics all his life, going back to his days as a community organizer," Axelrod told me. "He has really lived and breathed it, which is why it comes across so authentically. Of course, the time also has to be right for the man and the moment to come together. And, after all the country has been through over the last seven years, the times are definitely right for the message that the only way to get real change is to activate the American people to demand it."
Watering down that brand is the political equivalent of New Coke. Call it Obama Zero.
In 2004, the Kerry campaign's obsession with undecided voters — voters so easily swayed that 46 percent of them found credible the Swift Boaters' charges that Kerry might have faked his war wounds to earn a Purple Heart — allowed the race to devolve from a referendum on the future of the country into a petty squabble over whether Kerry had bled enough to warrant his medals.
Throughout the primary, Obama referred to himself as an "unlikely candidate." Which he certainly was — and still is. And one of the things that turned him from "unlikely" upstart to presidential frontrunner is his ability to expand the electorate by convincing unlikely voters — some of the 83 million eligible voters who didn't turn out in 2004 — to engage in the system.
So why start playing to the political fence sitters — staking out newly nuanced positions on FISA, gun control laws, expansion of the death penalty, and NAFTA?
In an interview with Nina Easton in Fortune Magazine, Obama was asked about having called NAFTA "a big mistake" and "devastating." Obama's reply: "Sometimes during campaigns the rhetoric gets overheated and amplified."
Overheated? So when he was campaigning in the Midwest, many parts of which have been, yes, devastated by economic changes since the passage of NAFTA, and he pledged to make use of a six-month opt-out clause in the trade agreement, that was "overheated?" Or was that one "amplified?"
Because if that's the case, it would be helpful going forward if Obama would let us know which of his powerful rhetoric is "overheated" and/or "amplified," so voters will know not to get their hopes too high.
When Obama kneecaps his own rhetoric and dilutes his positioning as a different kind of politician, he is also giving his opponent a huge opening to reassert the McCain as Maverick brand. We know that McCain has completely abandoned any legitimate claim on his maverick image, but the echoes of that reputation are still very much with us — especially among many in the media who would love nothing more than to be able to once again portray McCain as the real leader they fell in love with in 2000. And the new Straight Talk Express plane has been modeled on its namesake bus, decked out to better recreate the seduction.
The transition between the primaries and the general election — and from insurgent to frontrunner — is tricky. Even a confident campaign can be knocked off course. So this is when Obama most needs to remember what got him to this point — and stick with it.
In a Los Angeles Times article detailing Obama's attempts at "shifting toward the center," Matt Bennett of the centrist think tank Third Way says that Obama is a "good politician. He's doing all he can to make sure people know he would govern as a post-partisan moderate."
But isn't being a "good politician" as it's meant here exactly what Obama defined himself as being against? Instead of Third Way think tankers, Obama should listen to this guy:
"What's stopped us is the failure of leadership, the smallness of our politics — the ease with which we're distracted by the petty and trivial, our chronic avoidance of tough decisions, our preference for scoring cheap political points instead of rolling up our sleeves and building a working consensus to tackle big problems…. The time for that politics is over. It's time to turn the page."
That was Barack Obama in February of 2007, announcing his run for the White House. "I know I haven't spent a lot of time learning the ways of Washington," he said that day, "but I've been there long enough to know that the ways of Washington must change."
Was that just "overheated and amplified" rhetoric?
The Obama brand has always been about inspiration, a new kind of politics, the audacity of hope, and "change we can believe in." I like that brand. More importantly, voters — especially unlikely voters — like that brand.
Pulling it off the shelf and replacing it with a political product geared to pleasing America's vacillating swing voters — the ones who will be most susceptible to the fear-mongering avalanche that has already begun — would be a fatal blunder.
Realpolitik is one thing. Realstupidpolitik is quite another.
The ubiquitous Arianna Huffington, among other things, is editor in Chief of The Huffington Post. 
_____________________________________________________________________________________
OP-ED COLUMNIST
The Obama Agenda
It's feeling a lot like 1992 right now. It's also feeling a lot like 1980. But which parallel is closer? Is Barack Obama going to be a Ronald Reagan of the left, a president who fundamentally changes the country's direction? Or will he be just another Bill Clinton?
Current polls — not horse-race polls, which are notoriously uninformative until later in the campaign, but polls gauging the public mood — are strikingly similar to those in both 1980 and 1992, years in which an overwhelming majority of Americans were dissatisfied with the country's direction.
So the odds are that this will be a "change" election — which means that it's very much Mr. Obama's election to lose. But if he wins, how much change will he actually deliver?
Reagan, for better or worse — I'd say for worse, but that's another discussion — brought a lot of change. He ran as an unabashed conservative, with a clear ideological agenda. And he had enormous success in getting that agenda implemented. He had his failures, most notably on Social Security, which he tried to dismantle but ended up strengthening. But America at the end of the Reagan years was not the same country it was when he took office.
Bill Clinton also ran as a candidate of change, but it was much less clear what kind of change he was offering. He portrayed himself as someone who transcended the traditional liberal-conservative divide, proposing "a government that offers more empowerment and less entitlement." The economic plan he announced during the campaign was something of a hodgepodge: higher taxes on the rich, lower taxes for the middle class, public investment in things like high-speed rail, health care reform without specifics.
We all know what happened next. The Clinton administration achieved a number of significant successes, from the revitalization of veterans' health care and federal emergency management to the expansion of the Earned Income Tax Credit and health insurance for children. But the big picture is summed up by the title of a new book by the historian Sean Wilentz: "The Age of Reagan: A history, 1974-2008."
So whom does Mr. Obama resemble more? At this point, he's definitely looking Clintonesque.
Like Mr. Clinton, Mr. Obama portrays himself as transcending traditional divides. Near the end of last week's "unity" event with Hillary Clinton, he declared that "the choice in this election is not between left or right, it's not between liberal or conservative, it's between the past and the future." Oh-kay.
Mr. Obama's economic plan also looks remarkably like the Clinton 1992 plan: a mixture of higher taxes on the rich, tax breaks for the middle class and public investment (this time with a focus on alternative energy).
Sometimes the Clinton-Obama echoes are almost scary. During his speech accepting the nomination, Mr. Clinton led the audience in a chant of "We can do it!" Remind you of anything?
Just to be clear, we could — and still might — do a lot worse than a rerun of the Clinton years. But Mr. Obama's most fervent supporters expect much more.
Progressive activists, in particular, overwhelmingly supported Mr. Obama during the Democratic primary even though his policy positions, particularly on health care, were often to the right of his rivals'. In effect, they convinced themselves that he was a transformational figure behind a centrist facade.
They may have had it backward.
Mr. Obama looks even more centrist [ if not downright rightist ] now than he did before wrapping up the nomination. Most notably, he has outraged many progressives by supporting a wiretapping bill that, among other things, grants immunity to telecom companies for any illegal acts they may have undertaken at the Bush administration's behest.
The candidate's defenders argue that he's just being pragmatic — that he needs to do whatever it takes to win, and win big, so that he has the power to effect major change. But critics argue that by engaging in the same "triangulation and poll-driven politics" he denounced during the primary, Mr. Obama actually hurts his election prospects, because voters prefer candidates who take firm stands.
In any case, what about after the election? The Reagan-Clinton comparison suggests that a candidate who runs on a clear agenda is more likely to achieve fundamental change than a candidate who runs on the promise of change but isn't too clear about what that change would involve.
Of course, there's always the possibility that Mr. Obama really is a centrist, after all.
One thing is clear: for Democrats, winning this election should be the easy part. Everything is going their way: sky-high gas prices, a weak economy and a deeply unpopular president. The real question is whether they will take advantage of this once-in-a-generation chance to change the country's direction. And that's mainly up to Mr. Obama.
Paul Krugman writes for the New York Times. 
———
RECOMMENDED ARTICLES AT CYRANO'S JOURNAL ONLINE: